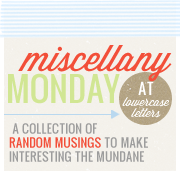 I decided today I would join in on some "Miscellany Monday" fun...
So,
here goes!
-----------ll-----------ll-------------ll-------------ll-----------ll----------
"Therefore love joy and peace."
Confused? Well, I was at first.
Quite a few weeks ago, I came across this Bible verse in Romans and could not make sense of it! For some reason the wires in my brain must have short-circuited because this sentence just wasn't clicking. I thought, "Where is the verb here? This is an incomplete sentence!"
After re-reading it a couple several times and applying some second grade grammar, I finally found it. :)
Okay, maybe that is a bit of an exaggeration... but it sure was fun! ;)
...Enough said. :)
Picture of an Orange Car.
A friend of ours owns this really neat Porsche:
I took a picture of it awhile back, and figured now would be a good time to share! ;)
While my family doesn't drink sodas anymore, I still find myself missing the days when I 'd have a yummy Dr. Pepper (
along with a

king size

package of Reeses
)... Mmm. The rest of my family typically preferred drinking a good ole' Coca-Cola.
Do you drink sodas? If so,
I love roller coasters.
From the
twisty-twirlies
to the
loop-the-loops
,
the calm, relaxing
to
the giant thrillers...
I love them all!
Okay, maybe there are a few exceptions. :)
(Personal footage below *wink*)
I dislike snakes with a passion.
But they're tolerable when they look like this. :)
I just prayed for a verse to share with you all and randomly opened my Bible to Isaiah chapter 12. Since it's fairly short, I'll just type the entire passage!
In that day you will say:
"
I will praise you
, O LORD.
Although you were angry with me,
your anger has turned away
and you have comforted me.
Surely God is my salvation;
I will trust and not be afraid.
The LORD, the LORD, is my strength and my song;
he has become my salvation."
In that day you will say:
"
Give thanks to the LORD
, call on his name;
make known among the nations what he has done,
and proclaim that his name is exalted.
Sing to the LORD, for he has done glorious things;
let this be known to all the world.
Shout aloud and sing for joy, people of Zion,
for great is the Holy One of Israel among you."
----------ll-----------ll----------ll----------ll------------ll----------
Well, that's a wrap!
I pray you all have a very blessed week. :)